Why LIM?
Located in Midtown Manhattan, LIM College prepares students for successful careers in the global business of fashion and its many related industries.
OUR
MISSION
LIM College fosters a unique connection between real world experience and academic study in business principles. A LIM College education empowers students to become accomplished professionals in the dynamic global fashion world.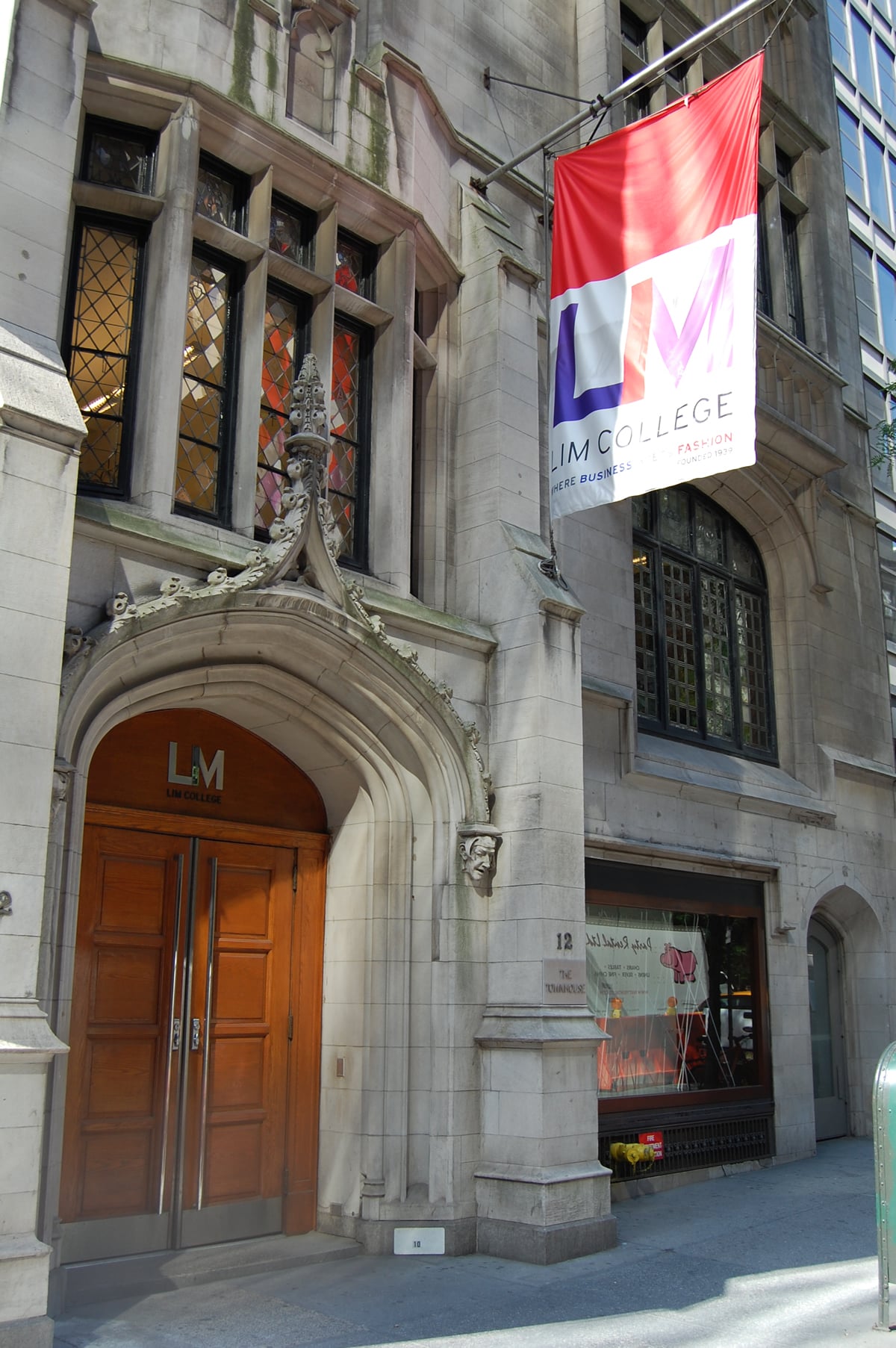 OUR
HISTORY
Nearly eight decades ago, Maxwell F. Marcuse, an authority and pioneer in the fields of education and retail, was asked by leading retailers to create an educational institution for the business of fashion and merchandising. In 1939 Mr. Marcuse founded what was originally known as the Laboratory Institute of Merchandising (LIM) and in 2009 became LIM College.
1939
Founded by Maxwell F. Marcuse (as the Laboratory Institute of Merchandising) and was initially located at 45 West 34th St.
1941
Seventy-nine women comprise the first graduating class.
1959
LIM College moves to 677 Fifth Ave. (between 53rd and 54th St.)
1965
LIM College moves to The Townhouse at 12 East 53rd St.
1971
LIM College officially becomes co-ed.
1972
Second generation: Adrian G. Marcuse assumes the presidency.
1977
LIM Fashion Education Foundation is founded.
1977
LIM College is granted accreditation from the Middle States Commission on Higher Education (MSCHE).
1982
Bachelor of Professional Studies degree granting powers are authorized.
1988
Bachelor of Business Administration in Marketing is approved.
2002
Third generation: Elizabeth S. Marcuse assumes the presidency.
2003
Bachelor of Business Administration in Visual Merchandising is approved.
2004
Maxwell Hall location opens at 216 East 45th St.
2005
Bachelor of Business Administration in Management is approved.
2006
Fifth Avenue location opens at 545 Fifth Avenue at 45th St.
2008
Master of Business Administration degree granting powers are authorized.
2009
Name of institution officially changes from Laboratory Institute of Merchandising to LIM College.
2011
LIM College's Townhouse at 12 East 53rd St. designated as a New York City landmark.
2012
Master of Professional Studies in Fashion Merchandising and Retail Management is approved.
2012
Undergraduate and MBA degree programs receive accreditation from the Accreditation Council for Business Schools and Programs (ACBSP).
2013
Master of Professional Studies in Fashion Marketing is approved.
2013
Bachelor of Science in International Business degree granting powers are authorized.
2014
Master of Professional Studies in Visual Merchandising is approved.
2015
Master of Professional studies in Global Fashion Supply Chain Management is approved.
2015
Bachelor of Science Degree is introduced.
2016
Online degree programs are offered.
2019
LIM College celebrates its 80th anniversary.
WELCOME FROM
THE PRESIDENT
Here are a few words of inspiration from LIM College President Elizabeth S. Marcuse.
The Leadership Team of the College is comprised of the President, Executive Vice President for Finance and Operations/Treasurer, Provost, and Senior Vice President for External Relations & Alumni Affairs.

Elizabeth S. Marcuse
President 
Michael T. Donohue
Executive Vice President, Finance and Operations, Treasurer
Lisa Springer
Provost
Gail Nardin
Senior Vice President for External Relations & Alumni Affairs
The President's Cabinet is a core group of leaders who serve in an advisory capacity to the President, making informed recommendations regarding the College's strategic priorities, resource allocation, infrastructure, and organizational structure. The Cabinet aligns planning and operational processes and policies to fulfill College priorities, support the core values and mission, and fosters continuous improvement.
Members
Christopher Barto
Vice President of Government Relations and Community Affairs
Michael Donohue
Executive Vice President, Finance and Operations, Treasurer
Nina Fiddian-Green
Assistant Vice President of Career and Internship Services
Maurice Morency
Chief Technology Officer
Gail Nardin
Senior Vice President for External Relations and Alumni Affairs
Jackie Nealon
Vice President of Marketing and Communications
Erik Paulson
Vice President of Finance and Controller
Kristina Ortiz
Vice President of Enrollment Services
Michael Richards
Dean of Student Affairs
Lisa Springer
Provost
The Board of Directors is the governing body of LIM College and establishes the basic policies that set the course of LIM College. The Board is responsible for the performance of the institution, in all of its aspects and has the fiduciary responsibility for LIM College's financial performance. Composed of a maximum of eleven members, the Board meets quarterly at LIM College and participates in commencement each May.
Chairman
William J. Borner, Esq.
Vice Chair
Rosalind S. Neff
Directors
Sally A. Crawford
Jay R. Horowitz
Elizabeth S. Marcuse, D.C.S.
Nancy Marshall
Ron Marshall
Bill Reichblum
Gail E. Rothwell (Class of 1971)
Stefan Shaffer
The Fashion Industry Advisory Board
The Fashion Industry Advisory Board helps LIM College fulfill its mission and strengthen many of the services the College provides for its students. It is composed of successful senior executives from a broad variety of areas in fashion and related industries which currently include manufacturing, licensing, accessories, luxury brands, international sales, store design, public relations, marketing, executive recruiting, merchandising, supply chain and retail management.
The mission of the Advisory Board is to assist and advise the College in areas that include, but are not limited to, curriculum, student advocacy, long-range planning, industry outreach and public relations. In that capacity, Board members are mentors to our students, host field trips to their businesses, guest lecture in classes, hire our students for internships and permanent jobs, provide curricular advice and suggestions for new programs and/or degrees to help LIM College identify emerging areas of study. They also attend and participate in special events at LIM College throughout the year.
Fashion Industry Advisory Board Bios
Co-Chairperson
Julie Koch-Beinke
Partner/Co-Founder
Alternatives
Amie Blumberg
Vice President of Industry Relations
LIM College
Members
Nick Ammaturo
Co-Founder & COO, Fado
Ryan Bonafacino
CMO, Direct to Consumer & Tomorrow Sleep
Serta Simmons Bedding
Robert Bronstein
President
Max Studio
Jackie Buffon
President
NYC Alliance
David Burnett
Former Chief Merchandising Officer
Venus Fashions, Inc.
Bianca Caampued
Co-Founder/Creative Director
Small Girls PR
Sherry Cassin
Founder
Meow Mini Mart
Tony Coccerino
VP of Logistics and Distribution
David's Bridal
Mindi Cooke
Vice President/Chief Merchant
Luggage and Travel, Randa
Harry Cunningham
Vice President, Creative Services
Vera Bradley
Mary Ann Domuracki
Managing Director
MMG Advisors, Inc.
Mark Donatiello
Senior Vice President, Sales and Merchandising – Branded and Private Label Handbags
Chateau Group International
Dan Evans
EVP, Marketing & Business Development
Wests Design Consultants USA
Louise Evins
Chief Executive Officer
Evins Communications
Dr. Nicola Evoli
CIO-Strategy-International Sales
GROTTINI Retail Environments
Jeannette Ferran Astorga
Vice President - Corporate Responsibility
Ascena Retail Group, Inc.
David L. Fisher
Former Executive Vice President, General Merchandise Manager – Men's & Young World
Bloomingdale's
Barbara Friedman
Former President of Corporate Licensing
Liz Claiborne Inc.
Michael T. Gilson
CEO and Founder
Cormac Advisory Services
Leanne Gomez
Group Vice President
dds Discount – A Division of Ross Stores, Inc.
James Gundell
Co-Founder
playbridgeatsea.com
Luisa Herrera-Garcia
Senior Vice President of Production
John Varvatos
Connie Hoza
VP, Licensing & Business Development
Perry Ellis International
Adelle Kirk
Senior Vice President
Kirk Palmer Associates
Susan Kroll
Founder & CEO
RAREculture
David Law
Senior Vice President Global Merchandising
PVH Corporation
Michael Lichtenstein
Managing Member
Group L Consulting
Laurianne Listo
Executive Vice President – Sourcing
Global Brands Group
Bonnie Mackay
Product Specialist, Author
BMackay Consulting
Debra Malbin
Founder
Debra Malbin Associates
David Meir Sasson
Chief Operating and Financial Officer
Bonobos
Brandusa Niro
Editor-in-Chief, CEO
DAILY FRONT ROW
Stefani O'Sullivan
Manager-Brand Strategy and Marketing
Moda Operandi
Shawn R. Outler
EVP and Chief Diversity Officer
Macy's Inc.
Michael Ratner
Michael H. Ratner Consulting, LLC
Ellen Rodriguez
Former Managing Director
PricewaterhouseCoopers – Advisory Services
Denise Seegal
Former Chief Executive Officer
NXT Brands
Mark Shulman
President
Mark Shulman Inc.
Kristi Sloe
Vice President of Product Development
Laura Mercier
Alan Spalter
President
Retail Assistance Corporation
Julie Verdugo
Director of Sustainability + Social Impact
Free People
Nick Woodhouse
President & Chief Marketing Officer
Authentic Brands Group
FACULTY
At LIM College, you'll learn from faculty who understand the fashion business inside and out, as well as liberal arts professors who will teach you to think critically and communicate clearly.
CAREERS AT
LIM COLLEGE
Dedicated to helping students achieve and succeed? You found the right place.